Having gone through 3 kids, and a couple of strollers, I now have my own sets of stringent requirements when it comes to picking a stroller. It is important to buy a stroller that fits into your lifestyle requirements.
I am a Stay at Home Mom. And due to Kitson's hectic traveling schedules, I am often left to juggle 3 kids on my own. We do not drive, and depend largely on public transportation such as Mrts and Buses.


In my personal opinion, a good stroller should be;
1. Sturdy & Good Weight
When shopping for a stroller, I would suggest that you do your most outrages crash car dummy tests. Shake it, Push it to see just how much it takes to tip it over. In order for a stroller to be sturdy, it must not be overly light weight. Neither should it be so heavy that it reminds you of your weights in the gym.
2. 5 Point Safety Harness
A lap belt is never enough for a moving stroller. Once a baby master the skills of flipping, cruising, crawling and walking. He/She will make every attempt to STAND on the stroller. A 5 point safety harness will discourage the determined baby.
3. One Hand Operation
If 1 hand is carrying the baby, I only have the other to open and recline the stroller!
4. Fully Canopy Shade
There are 2 reasons why I insist on a full canopy shade.
Firstly, the weather in Singapore is just plain ridiculous. It is either scotching hot or pouring wet. A full canopy shade helps shield the baby from such harsh elements.
Secondly, I prefer my baby to have personal space when he is napping. So no kapoh aunties can tell me he is too hot, too cold, or perhaps even worst, attempt to touch him and wake him up!!!
5. Forward Facing
I am sure the outside world is much more exciting for a baby on a moving stroller. But, an option of having forward facing allow the parents to interact with the baby. I can still remember Sophia's infectious giggles whenever I sing The wheels on the pram goes bum-pa-dee-bum-bump.
A BIG Shopping Basket beneath the stroller would be an additional Bonus!!
---
We've recently been invited to the soft launch of Capella Cony S230T by Taime. Established since 1987, Capella is an established and reliable brand name from Korea.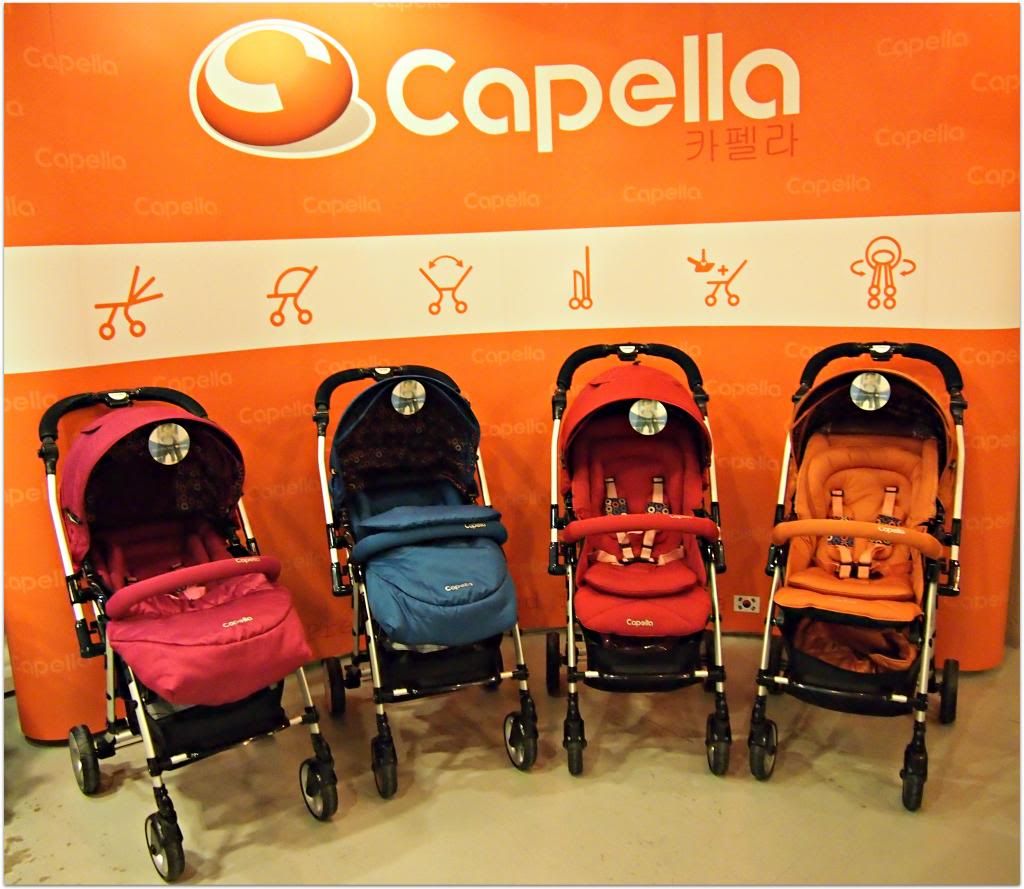 The owners of Taime; Andy and Eileen demonstrated the functionality of the brand new Capella Cony S230T stroller.

Vast improvements from its previous models.
The enhanced Capella Cony S230T stroller now boast Wider Space, Superb Comfort, and Increased Functionality.
Amidst the ohhs and the ahhs…..
it is hard to contain my excitement for such a beauty!
We were presented our very own Capella Cony S230T strollers by Eileen & Andy for reviewing purposes.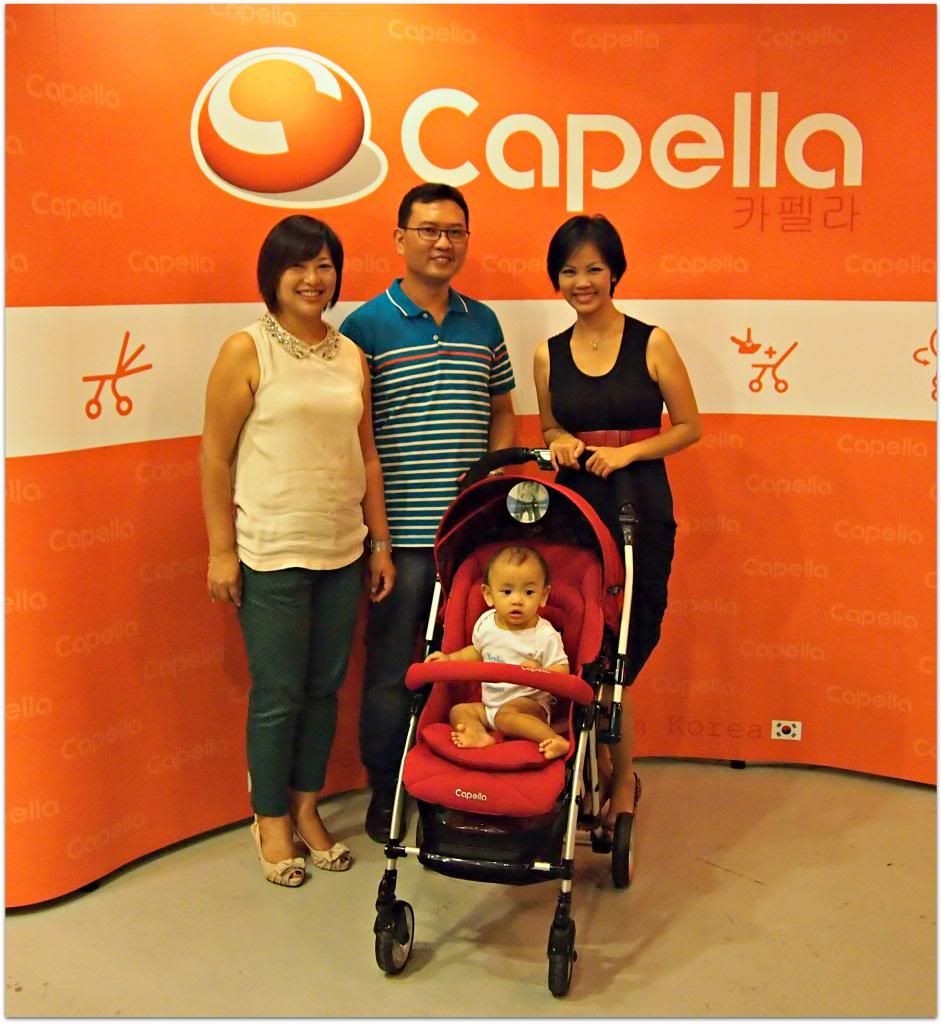 Alongside with 9 other Singapore Mom Bloggers, we will be participating in Shape Run happening on the 7th July 2013 with our Sparkling new Capella Cony S230T Strollers.
L to R: FloMummy, AmazinglyStill, SoOddlyDreamLike, Meeningfully, BecomingMam, IHeartBabyKate, SingaporeMomBlogs, Evespiration, Lynnlly & Cherieladie.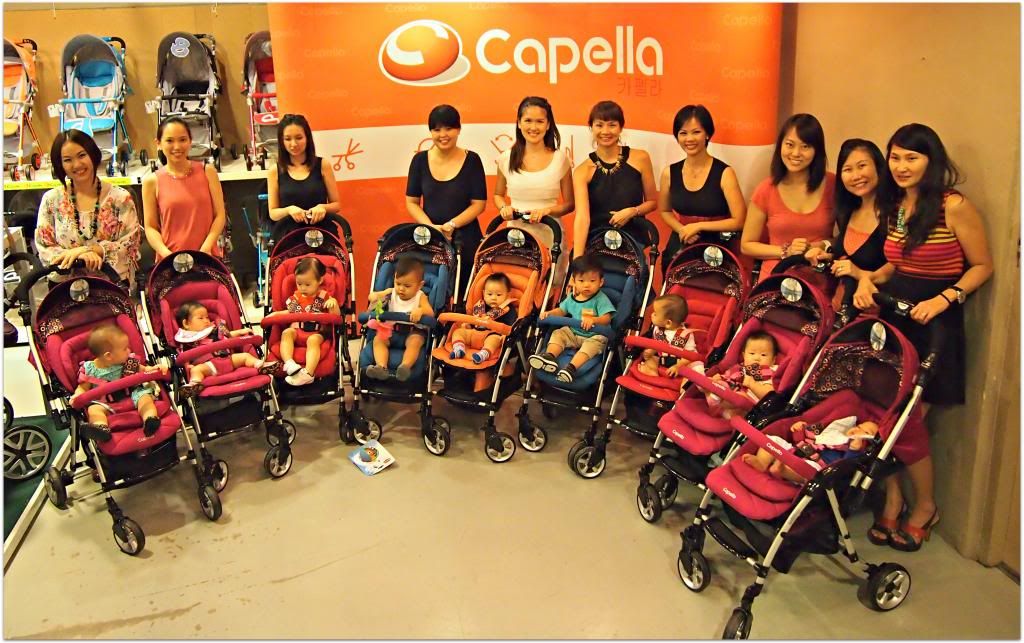 Do keep a look out for us and cheer us on!!
Capella Strollers will be available at:
Isetan, Metro, John Little, Robinsons, BHG, OG, Kiddy Palace, Cheri Kids, NTUC Xtra AMK, Toys'R'us, baby specialty stores and selected online baby stores.
For more information, Please check out Capella Strollers Facebook.
Disclaimer: We were invited to Capella Cony S230T Soft Launch and was gifted the Capella Cony S230T stroller for reviewing purposes. No monetary compensation was received. All views and opinions are our own.
Comments
comments