Like I've said before, the space on my kitchen top is like prime spaces of district 10. All the appliances that takes a spot on it needs to be multi functional. Other than the main purpose of frying without oil, the Philips Avance XL Airfryer is also able to grill, roast, gratinate and bake!
If you have been following closely on SingaporeMomBlogs Facebook Page, you will see the marvel of this incredible machine alongside with some recipes as well.
I baked healthy Nutella Swirl Banana Muffins in the Philips Avance XL Airfryer for the kids one morning and they said that was the BEST breakfast ever!
So I am sharing this recipe, hoping that you will find it to be the BEST Nutella Swirl Banana muffin too!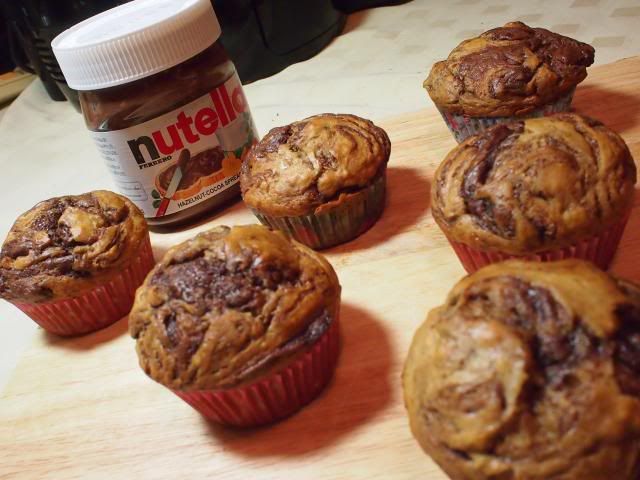 Healthy Air Baked Nutella Swirl Banana Muffins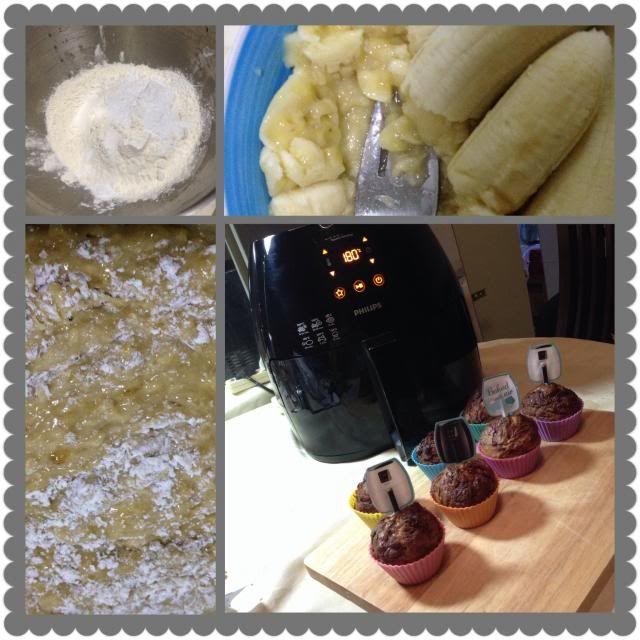 Ingredients
2 cups all-purpose flour
1 tsp. baking soda
1 tsp baking soda
1/2 tsp. salt
4 medium over-ripe bananas, mashed
1/2 cup granulated sugar
1/2 cup packed brown sugar
1 large egg
1/4 cup vegetable oil
2 tsp. Vanilla Extract
Nutella
Directions
1. In a medium size bowl, whisk together the flour, baking soda, baking powder and salt until everything is well mixed.
2. In a large bow, mix together bananas, granulated sugar and brown sugar. Mix in egg, vegetable oil and vanilla extract, and beat everything for about 2 minutes.
3. Add flour mixture to the banana mixture,mix everything together until just mixed.(Do Not Over Mix, it is okay to still see streaks of flour in the mixture.)
4. Preheat Philips Avance XL Airfryer for 5 minute.
5. Scoop muffin batter into silicon muffin cups, filling each liner 3/4 of the way full.Add 1 tsp of nutella to the top of each muffin, and use a toothpick to swirl in the nutella into the muffin batter.
6. Air Bake the muffin for 8 mins, or until a toothpick inserted in the center of the muffin comes out clean.
Let me know how Air Baking in the Philips Avance XL Airfryer went for you,
and what other recipes you would like to see from this little marvel machine.
Still have not gotten your Philips Avance XL Airfryer?
Cook with Air today! Quote SingaporeMomBlogs and buy the Viva Digital Airfryer at $399 (Usual price: $459), FREE $50 SHOPPING VOUCHER and Avance XL Airfryer at $479 (Usual price: $539), FREE $50 SHOPPING VOUCHER at the PHILIPS EXPERIENCE SHOWROOM. This promotion is valid from 1st December till 31st January 2014.
Limited to 1 Airfryer per person. IC must be produced.
PHILIPS EXPERIENCE SHOWROOM
Address: 620A Lorong 1 Toa Payoh Building TP4 Level 1 S(319762)
Tel: 6882 5800
Opening hours: Monday to Friday: 9.00 am – 7.00 pm Saturday: 9.00 am – 1.00 pm.
Closed on Sundays and Public Holidays.
The Viva Digital Airfryer and Avance XL Airfryer are also available at regular prices in leading electronics stores, department stores and supermarkets island-wide.
Keep life simple with the PHILIPS Philips Avance Collection Airfryer XL with Rapid Air technology (S$539). Available in stores in December 2013 at leading electronics and departmental stores.
Full Disclosure: We were gifted Philips Avance XL Airfryer for reviewing purposes. No compensation was recieved for this post. All views and opinions are my own.
Comments
comments