I never thought we would have enjoyed GUNS this much.
Located in a quiet corner in Sentosa, Combat Skirmish LIVE at Fort Siloso offers adrenaline rushing experience of combat simulation game.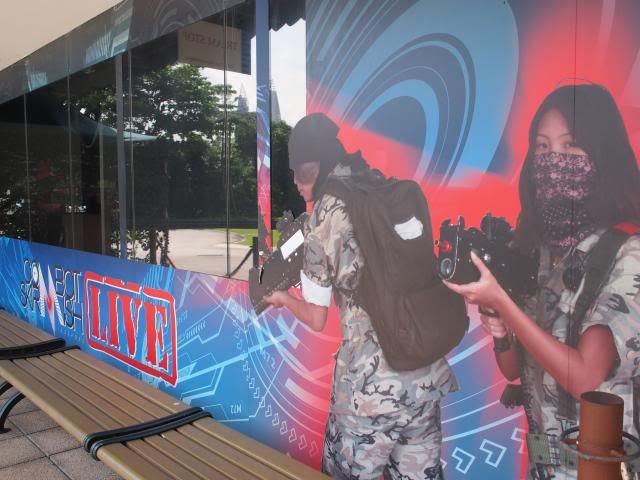 If you are feeling a tad nervous about the word combat and picture live rounds being fired all around while you scurry for safety.
Don't be… Combat Skirmish LIVE is absolutely safe. And I have James as living proof!
There are no bullets to dodge from as Combat Skirmish LIVE is played by laser tag technology.
Enough yakking. Time to head towards our first mission; The Indoor Maze.
In a comfortable air condition environment, the whole cohort was divide into 2 teams. We had to navigate through a maze, shoot down opponents with our high tech laser guns, dodge enemies attack and achieve specific team missions. In short, the team with the least respawn wins!!
Game time is 15 min and cost $18 per pax.
Never go into the battlefield without camouflage face paint!
Even James is pretty serious about getting his face painted!!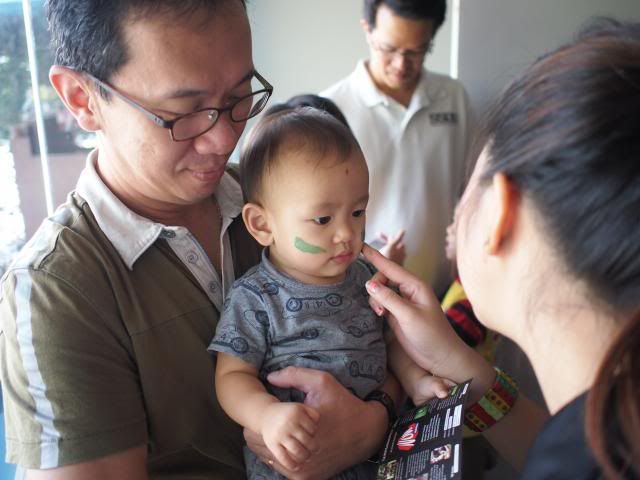 I can't help but break into laughter whenever I see this photo!
The guys were committed to their mission.
The gals didn't look feisty even though we were carrying mean looking guns.
While James is thinking,
"You got to be kidding me! She is not bringing me to the battlefield right?!?"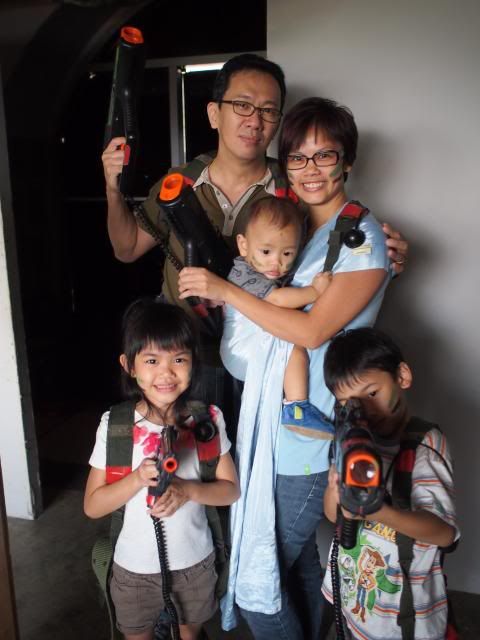 Our verdict on Combat Skirmish LIVE Indoor Maze: STRONGLY RECOMMENDED!! We felt like kids all over again as we ran through the maze alongside with our kids. There was an unspeakable feeling as we watch the kids work together fulfilling one common mission; to eliminate the other team! Hiroshi was fast and furious, while Sophia creeps quietly as the silent sniper. To sum it all up, it is a FUN activity for people of all ages.
Now that we've graduated from "nursery" class,
it is time to head down to the real world war 2 battle tunnels for more action!
First up, briefing.
Our little troopers paying full attention to their Mission Command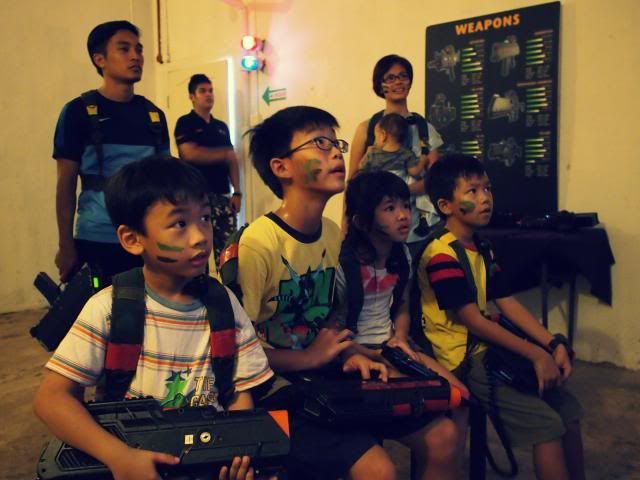 A challenge of teamwork and communication. We ran through the longest tunnel dug during the world war 2. Fighting mean mechanical soldiers who fires at will upon detecting motion! Defeating these machines was not an easy task. Working hand in hand and planning strategically is the key to success! There are 3 stages to clear before you meet the super villain on the clock tower! Retrieve the antidote to save injured soldiers!
Game time is about 30mins and cost $35 per pax.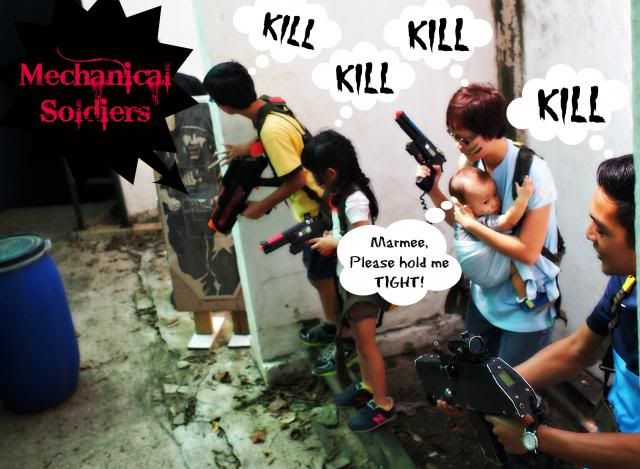 Our verdict of Combat Skirmish LIVE Tunnel Battle:
Navigating around the world war 2 battle tunnels bring the game to a whole new level. Under the sweltering heat, I could totally sympathize with our recruits in Tekong! Those mechanical soldiers were harder to defeat. It took us many rounds of firing just to get one down.
But when we finally got to the clock tower to defeat the super villain, we could all feel the sense of accomplishment as a team.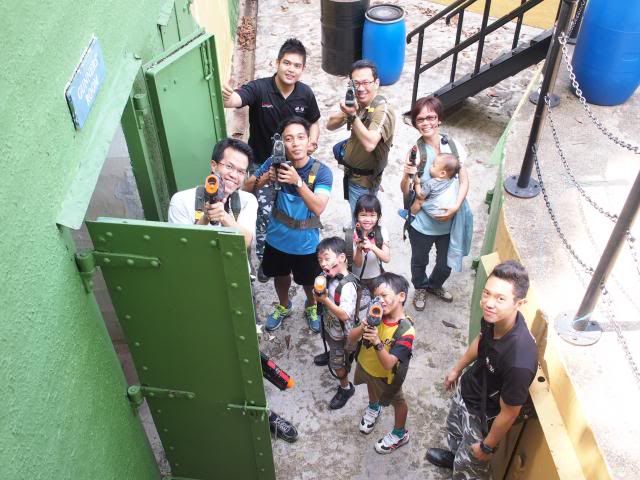 Great activity for team building!
We survived Combat Skirmish!
What about you?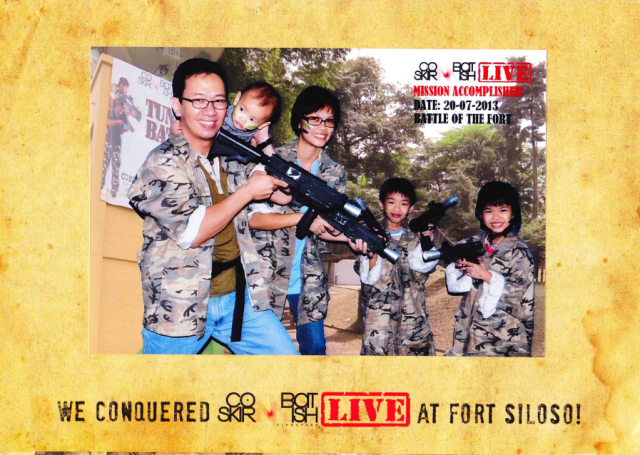 ---
Special Promotion for September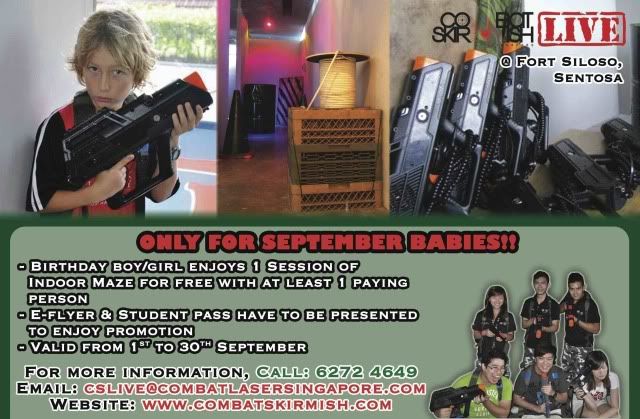 Out of ideas on what to do for a birthday party?
Have an ultimate party experience with Skirmish Combat!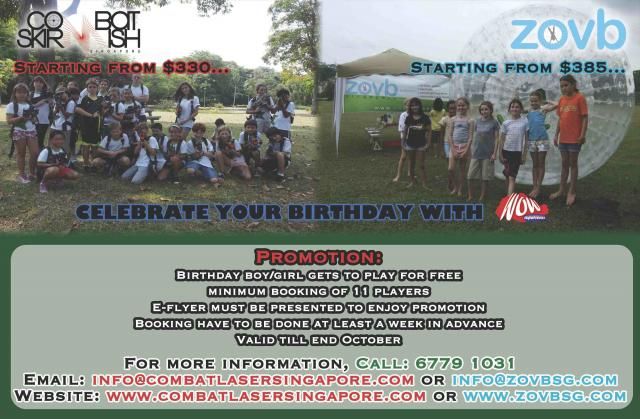 It's time for a GIVEAWAY!!
4 tickets to Combat Skirmish LIVE Indoor Maze
+ 1 free photo for each participant.
Giveaway will run from 02/09 12.00am till 09/09 12.00am.
a Rafflecopter giveaway

Disclaimer: We have been invited by WOW Experience for Combat Skirmish. All views and opinions are our own.
Comments
comments