I've never thought that I would ever participate in a marathon!
Let's face it, who am I kidding…..
I am not a runner.
The only running I do these days are running after kids and BUSES!
And it's normally done in a quick burst of short distances!
When I told the kids about Cold Storage Kids Run.
They were thrilled.
Despite knowing the fact that they had to run 800m
they remained positively excited.
So I enrolled all 3 kids into the Cold Storage Kids Race.
There were intention for training.
But, we never got about DOING it.
So when it came race day,
We sang Que Sara Sara Whatever will be, Will be.
Hiroshi was up 1st in the Boogey Blue Dash. A competitive run for kids in the age group of 7 & 8 years old. Honestly, it doesn't matter if he came in first or last. All that matter was the brave child did his first run all by himself. And I was there to witness it!!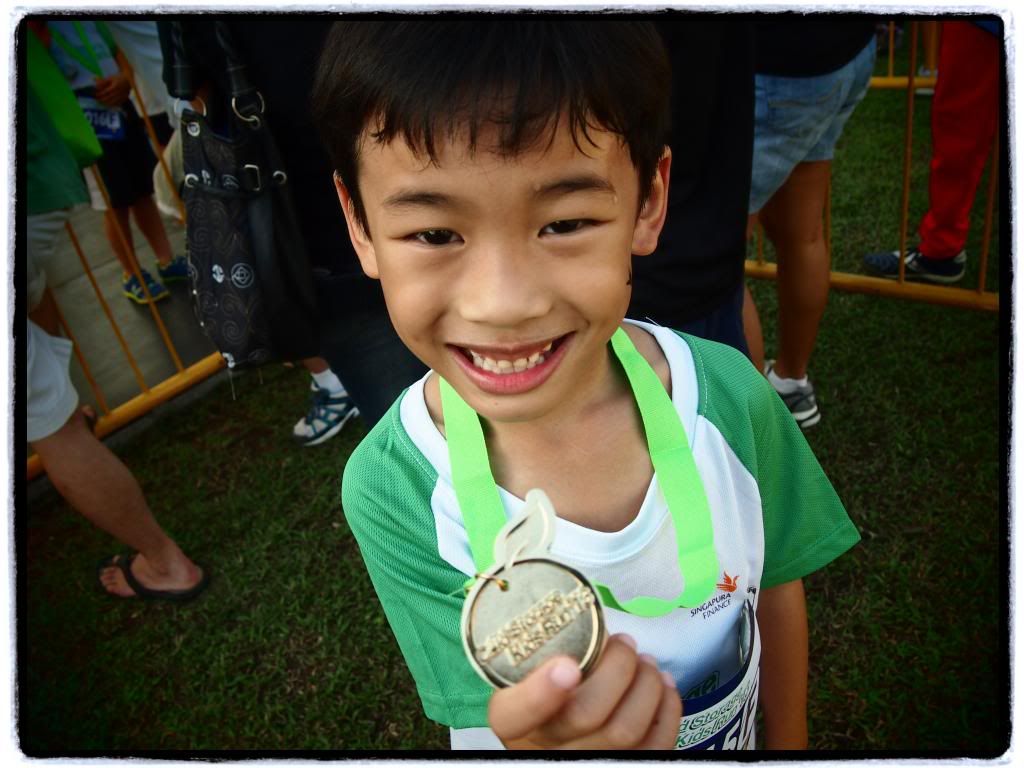 Then it was Sophia's turn at the Sunshine Orange Chase. A fun run which requires a parent to team up with their child and have a jolly good time running together. Sophia was full of zest even thought it wasn't competitive!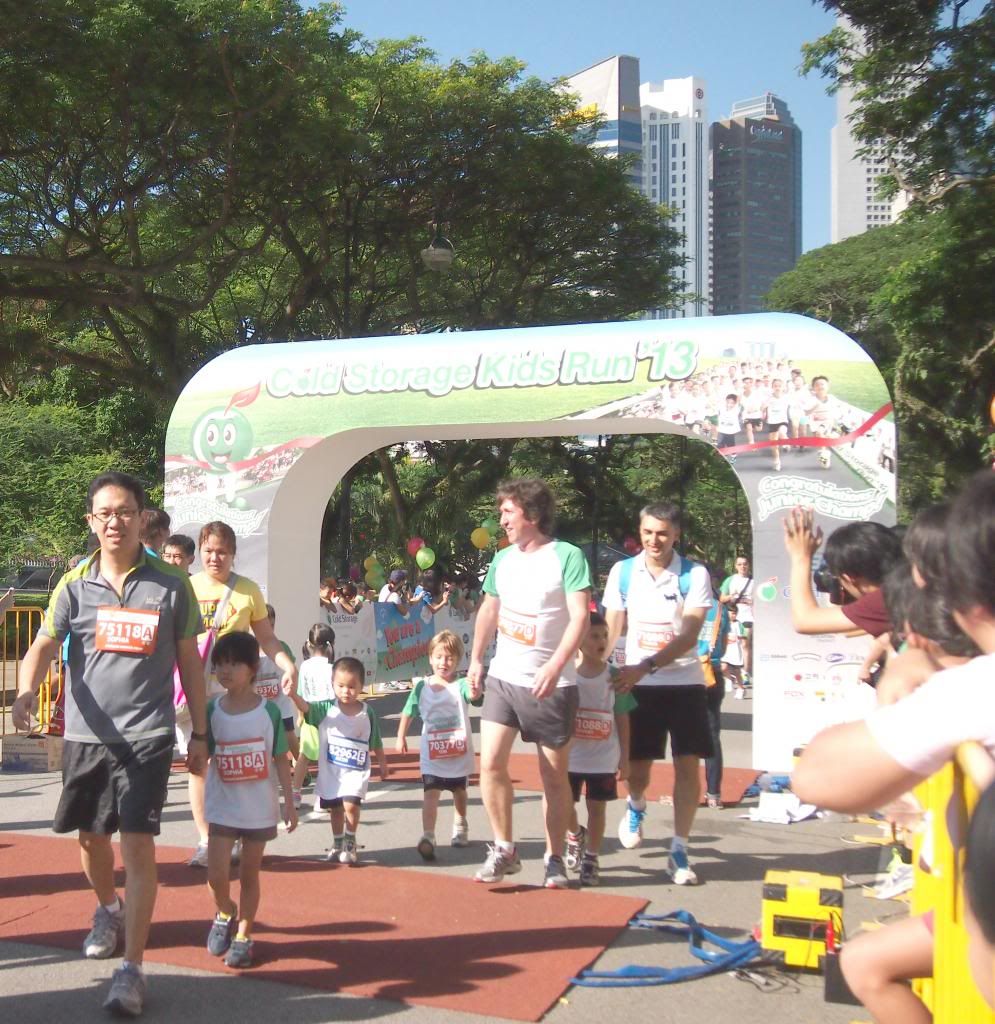 Finally, it was James's turn at the Huggies Stroller Chase. I boldly took up the challenge and ran with James on the stroller. I had a tough time catching my breath and my mind was constantly straying and wondering, "where the heck is the finishing line!!!!"
We made the day extra memorable by dressing up our strollers for the Best Dressed Stroller Competition. We went as Fireman Sam James. It was definitely a head turner! People were whipping out cameras and shouting SooOOoOoOooo CutEeeeEEeee!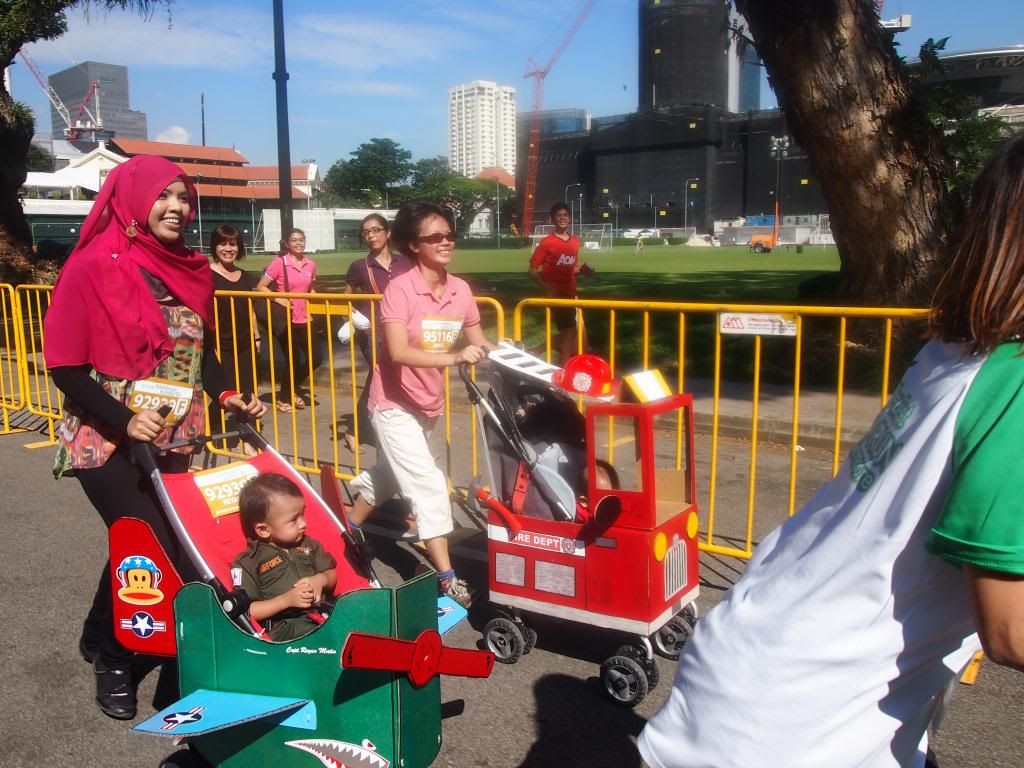 Perhaps we should do the Star Wars X-wing accompanied by Princess Leia Irene in our next stroller race!!
Gold Medals and Certificate were given to all kids that has completed the race. I'll like to applaud the people from Cold Storage Kids Run for such thoughtful gestures. To me, it simply meant that every kid is a WINNER. My kids were uber proud of it that they brought the medals to school to show them off!!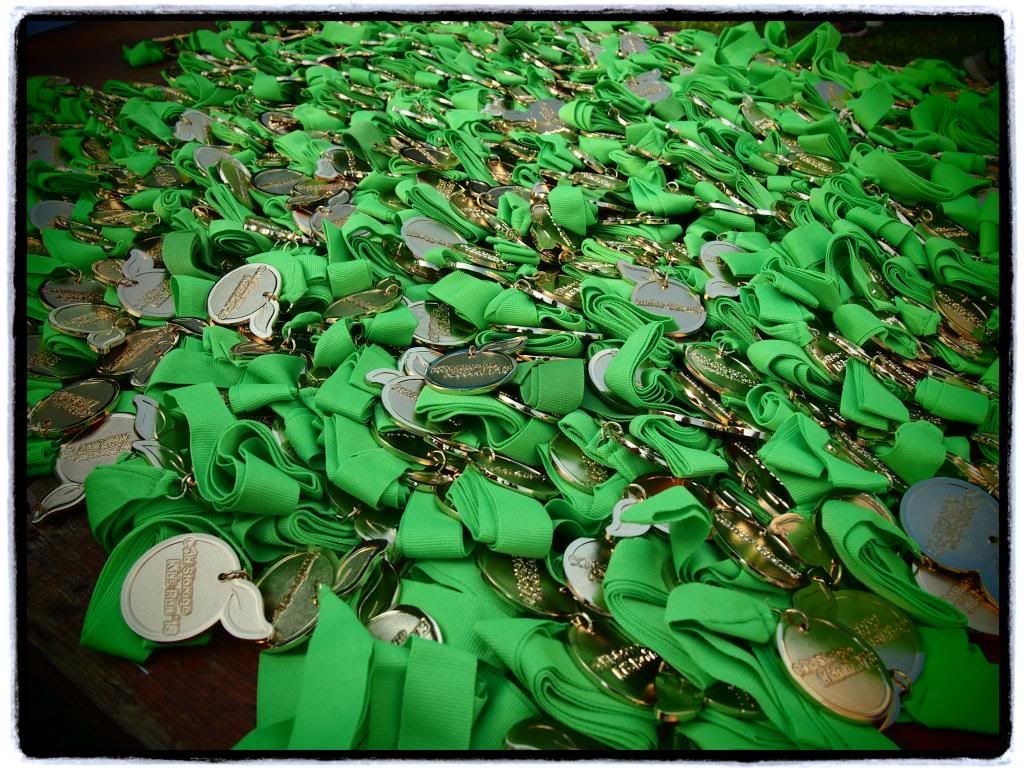 Top 5 tips for Stroller Race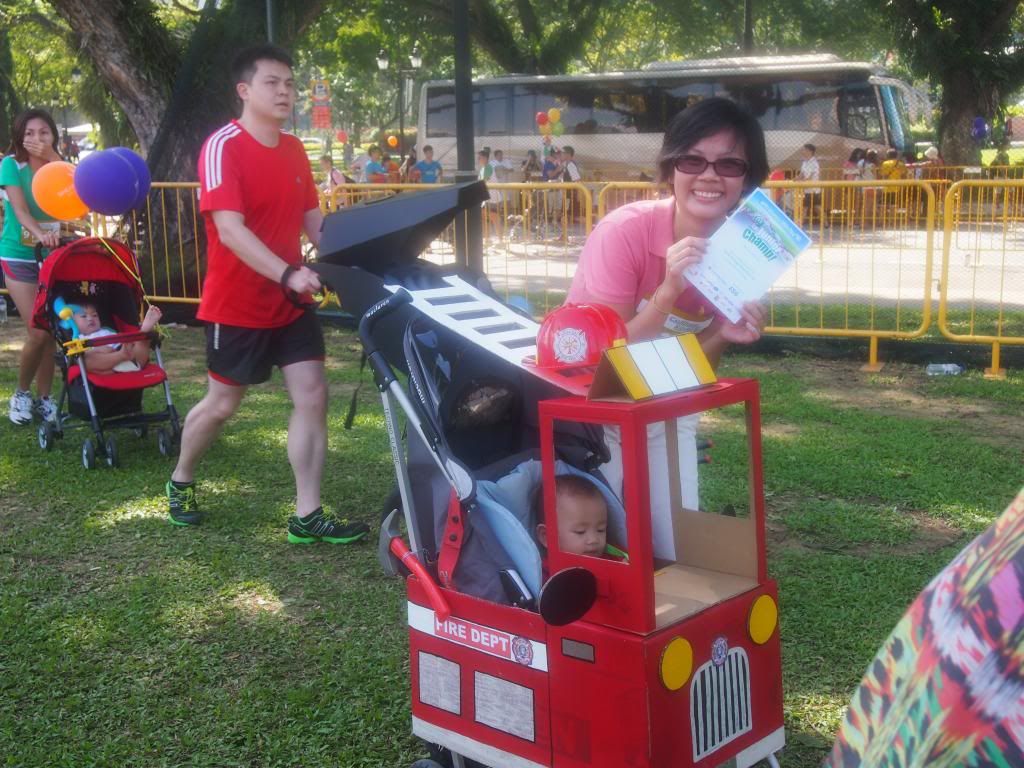 1. Choice of Stroller
Technically speaking, a stroller specifically designed for jogging should be used in a stroller race. But, since we are all everyday Singaporeans who might not even run with our strollers on a day to day basis…..
A normal stroller will suffice. But, extra precaution should be taken.
The stroller you are using should be sturdy, comes with 5 point safety belt harness, large canopy, Comfortably Padded, and ideally comes with a suspension system as well.
2. Test Run
I know, I've been in that same pit fall. How tough is it to run with strollers?!?!? As it turns out, not so easy….. When you run take note of your posture, remember to keep your elbows bent and stroller close to your body. Abdominal muscles pulled in tight. Shoulders rolled down and back. Keep a relaxed grip over the stroller. And most importantly….. Train, Train, Train.
3. Pack Necessities & Entertainment
I've packed crackers, water and toys to keep James happy and settled in the stroller. Do whatever it takes to keep your child happy in the stroller!! It's distracting to run with a crying baby.

4. Keep Child Safe from Hash Elements
The sun was unforgiving during the Cold Storage Kids Run. Remember to ladle on Sunscreen and put on a super cool sunshade for the child. Having a stroller with large canopy would be great for situations like that. But coupled with a portable electronic fan would be god sent!
5. All in the Name of FUN
Don't break a sweat over it! Stroller Runs are suppose to be FUN. Run in your own pace. Keep left and do not hog up the entire race track. Stay in line. Keep a safe distance between yourself and other participants.
Financial compensation was not received for this post.
An invitation was extended from Full Circle Public Relation .
Opinions expressed here are my own.
Comments
comments