Hiroshi has been crazy over UNO ever since Aunty Ivy got him a pack of Winnie the Pooh UNO Cards many Christmas ago. The Winnie the Pooh UNO cards were bigger and chunkier than the usual UNO cards, making it easy for little hands to handle. The rules were fairly simple and easy to understand even for a 5 year old.
In my personal opinion, it is a great game to teach kids about colors and numbers.
Hiroshi would faithfully pack his UNO cards in a metal tin box
and challenge any adults that are interested in a game of UNO.
Case in point here, the victim contender Uncle Peter!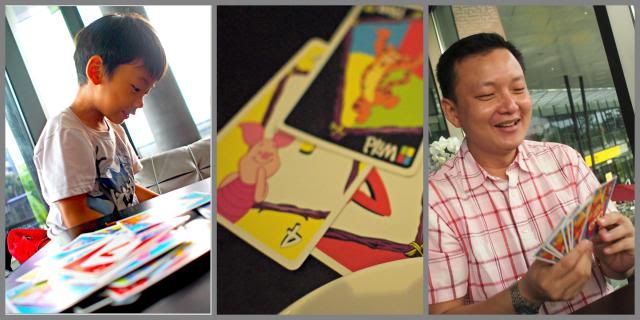 We were recently gifted with UNO Attack. If you think the traditional UNO card game is FUN, you got to have a go at UNO Attack!
It is an exciting, frenzied and unpredictable way of playing UNO. UNO Attack! comes with a special electronic card shooter and special UNO Attack! cards. Push the launcher button on the shooter, if you're lucky, nothing will happen. But if you're not, the shooter with fire a stream of UNO Attack! cards.
It sends everyone laughing each time the special electronic card shooter spew a stream of UNO Attack! cards. Especially to the soon-to-be-winners. Very therapeutic to hear laughter as long as you are not the one drawing the cards!!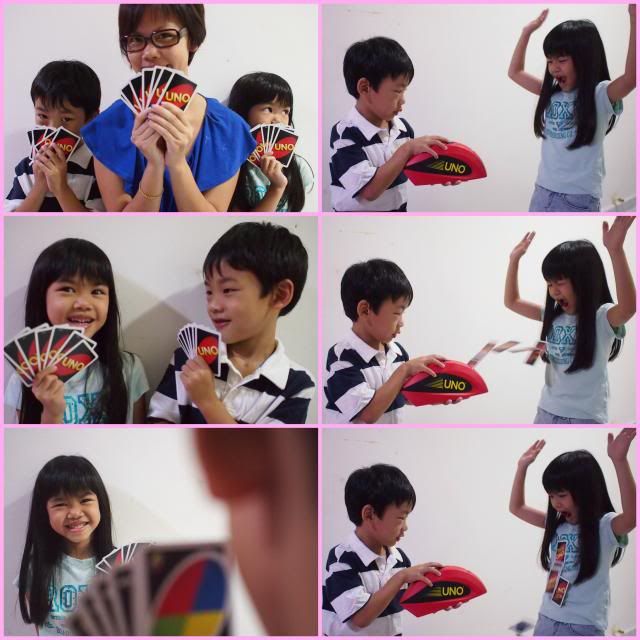 What's your family's favorite card game?
---
Mattel hosts the first ever Asia UNO Challenge. The challenge will see national champions from various Asian countries, namely, Malaysia, Japan, Taiwan, Hong Kong, Indonesia and Singapore, to compete for the title of the first ever UNO Asian Champion in Japan later this year.
Using the classic game rules, the championship is open to children aged 7 – 15 years old (Singapore citizens/PR), with 4 players battling out 2 rounds of UNO® in each group.
The Grand Prize winner (and a parent) will be flown to Tokyo to represent Singapore at the Asia UNO Challenge for 4days/3nights.
To participate, register with game marshals 15 mins before the start of each session.
Registration is FREE!
(Please refer to table below for the list of competition venues)
Preliminary Round Schedule
| Time | Date | Location |
| --- | --- | --- |
| 12.00pm – 6.00pm | 8 August – 11 August | Toys 'R' Us VivoCity |
| 12.00pm – 6.00pm | 17 August – 18 August | Toys 'R' Us Forum |
| 12.00pm – 6.00pm | 24 August – 25 August | Toys 'R' Us United Square |
| 12.00pm – 6.00pm | 31 August – 1 September | Toys 'R' Us Tampines |
Good Luck! May the Force be with you!
p/s: We have been gifted the UNO cards and UNO Attack! All views and opinions are our own.
Comments
comments