Since it was our very first time watching Chingay, we didn't really know what to expect from it. But, as we sat in our seats, the kids got excited as they rummage through their goody bags.

We were seated at the edge of our seats as we watch talented artists by PAssion Visual Arts Paint Horses while waiting for Chingay 2014 to start!

The opening act saw People's Association PAssionArts, Vocal Associates singing 麻雀衔竹枝. This song has been playing in my head the entire night like a broken record! I love how catchy and meaningful it is! Photo Credit: Victor Lim

It was not only a treat for the ears. Our eyes were fixated by the colourful costumes by graceful dancers from different ethnic groups.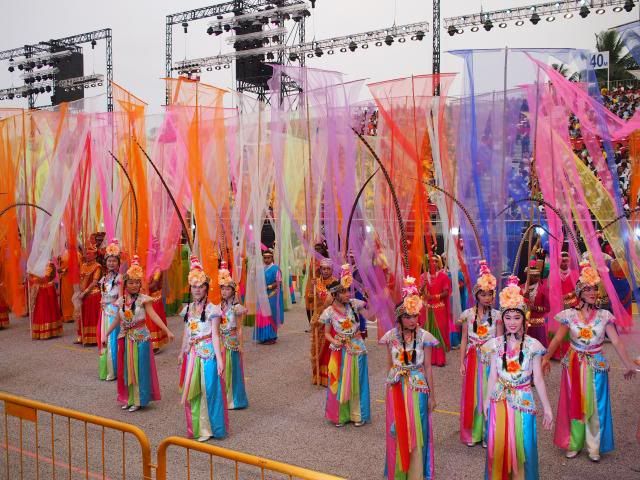 Chinese Dance 俏花旦.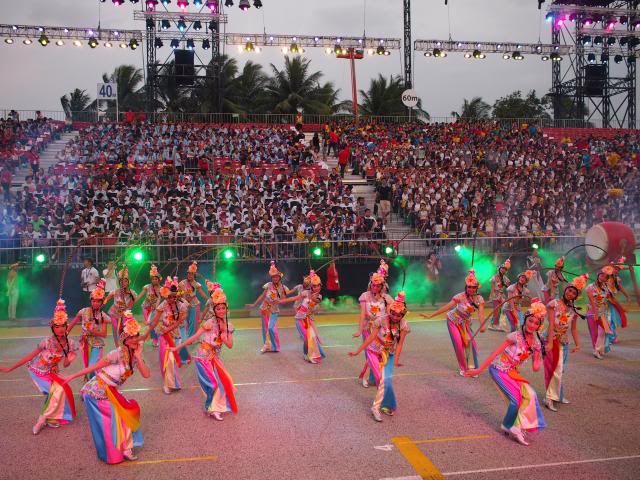 Malay Dance-off between traditional and modern contemporary Malay dances

Vibrant Indian Bollywood-themed Performing Contingent

One of the many reasons Chingay 2014 is so unique is because it has incorporated community efforts of many levels. Take for instance, Project Batik 360; Paint With ONE Heart has seen different communities coming together through Batik painting. The intricate 360 meter Batik Fabric that will flow through the entire Parade route accompanied by colourful multi-cultural performers.

Community Puppetry Art with Gigantic 4 meters tall Puppets!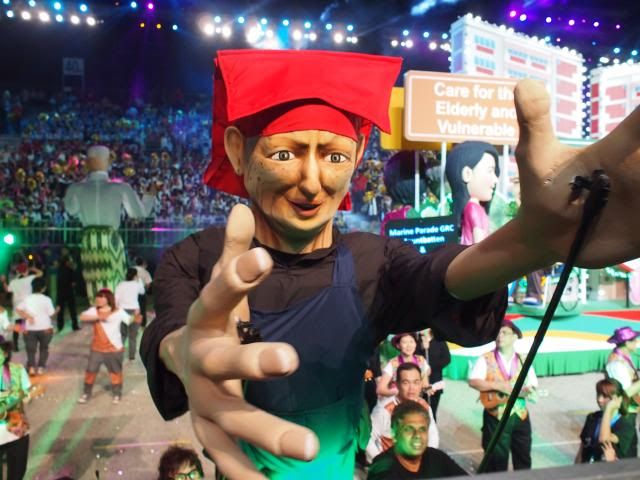 Mass children ballet display. Sophia was in awe looking at these beautiful ballerinas.

Singapore Getai "新加坡歌台" with celebrity artistes Liu Ling Ling, Wang Lei, Lee Pei Fen and Rawi Hamin singing an upbeat version of 一人一半.

Another community project for Chingay 2014, Knit with One Heart has seen different communities coming together and bonding through knitting. These knitted art pieces exemplifies a closely-knitted Singapore.

Spectacular Grand Finale! Featuring 720 meters of colourful Community-knitted Tapestries from Project Knit with One Heart. The theme song for the finale; 网织同心" is an Original Song composed by renown local music talent Mr Lee Si Song. I love how the song is able to intertwine 4 different languages in 1 song. Uniquely Singapore!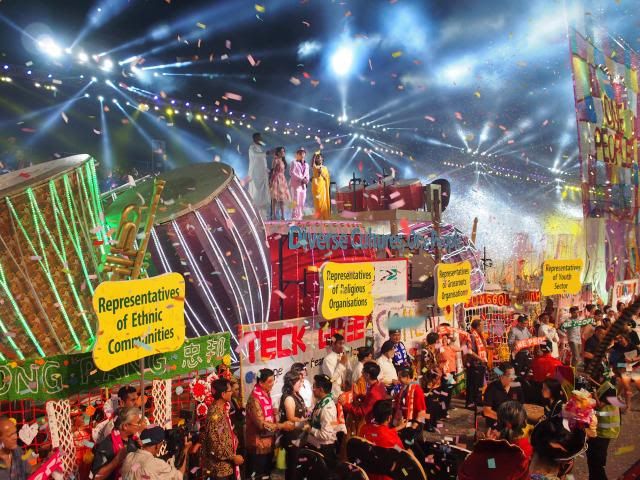 Chingay 2014 | Colours of Fabric. One People 布海同心
will be happening on 7 & 8 of February 2014, 7pm,
at F1 Pit Building.
Get your Tickets Now from Sistic.
Comments
comments