Sunway Pyramid Ice is conviniently located within Sunway Pyramid Shopping Complex. It doesn't matter if you're an ice skating enthusiast or lacing up your skates for the first time, you are bound to have a great time as you take center stage in the open view ice skating rink.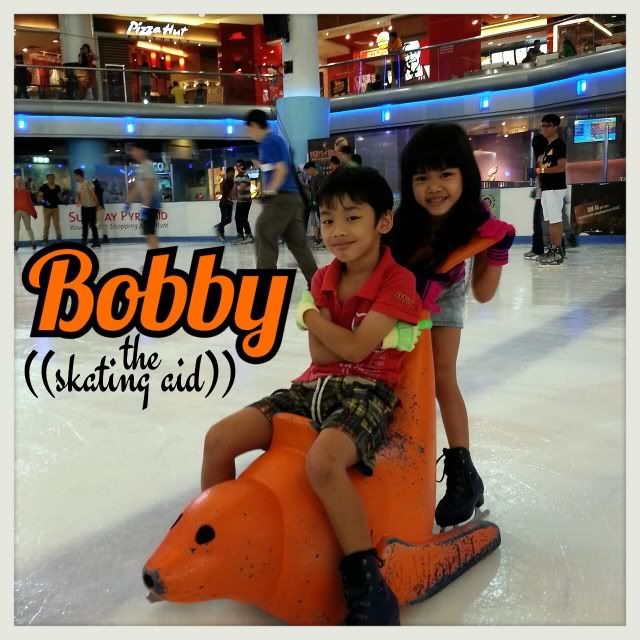 I was a wee bit ambitious in the beginning. I thought I was able to cope with both Hiroshi and Sophia in the Ice Skating Rink.
Who was I kidding! With both of them stumbling onto me for support, I surrendered and asked for help.
Bobby, the skating aid came to my rescue. We were a lot more mobile with Bobby.
Both kids were having so much fun taking turns on Bobby. We went through the process of ice skating, falling, and struggling to get up over and over again. But, we eventually still managed to laugh over it with our butts sore. We haven't had this much fun for a long long time!
Kitson was babysitting James and taking photographs at the same time.
(I found this picture particularly amusing!)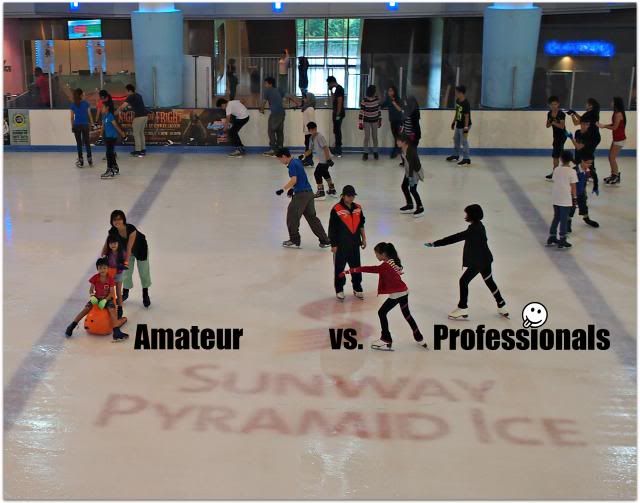 Bobby was slowly building up the kids' confidence on ice. Before I knew it, Hiroshi proudly declares; "I think I can skate!!" And off he went.

This is a great bonding activity for families.
Rates are reasonable and the facilities are not too shabby.
*Highly recommended*
Before you visit, be sure to
Check out the entrance fees to Sunway Pyramid Ice,
Look out for special promotion,
Check the website for opening and closing hours,
Book skating instructors in advance, and
Consider buying your tickets online as it is slightly cheaper.
Socks (RM$5.00) and Gloves (RM$8.00) are availabe for purchase over the counter.
(Do remember to bring your own if you have them.)
Bobby the skating aid out for rental for RM$20.00 per hour.
Sunway Pyramid Ice
LG3 Sunway Pyramid, Jalan PJS 11/15
Bandar Sunway, 46150 Petaling Jaya
Selangor Darul Ehsan, Malaysia
T + 60 3 7492 6800
Comments
comments