Unlike most new mother who struggled with supply problems. I had plenty to feed a village. I started producing milk shortly after 2nd trimester and had soaking wet tee shirts all the way till I delivered Hiroshi. I was a nervous wreck as a first time mother. But, I was AMBITIOUS! I insisted for Hiroshi to be totally breastfed.
Throughout the 9 months of pregnancy I was certain that I wanted Hiroshi to be totally breastfed. I've watch every single Dr Jack Newmen videos on Breastfeeding over a gazillion times. Running dry drills at the back on my head,
tummy to tummy,
tickle baby's upper lips with nipple,
WAIT for the GAPE,
then straight on.
As I lay paralysed from waist down from the effect of epidural, accompanied with a fresh cesarean wound right across the bikini line. I wasn't sure if I was able to breastfeed Hiroshi as planned.
But, I was thankful that the lactation consultant from the hospital was very supportive. I laid by my side as I breastfed Hiroshi for the very first time. I was in awe as I watch Hiroshi instinctively latch on. Perfect Latch on his first attempt! We were all beaming with joy. It's strange how little things like these makes you happy when you're a parent.


Abundance milk supply and Perfect Latch. Isn't that the perfect formula for successful breastfeeding? YES! It was.
Till a well meaning relative came by with advices. I was told not to direct (latch) feed as it will create dependency which makes it harder to head back to work. So I asked Kitson to get me the Medela Pump in Style. Our well meaning relative overheard our conversation and offered to gift us one. She went and came back with a manual pump instead of an electric one I asked for.
What happens after that was a blur swirl. I could only roughly remember washing, sterilizing, pumping, storing, heating, feeding, diaper changing and the vicious cycle starts over and over again for 2 sleep deprived new parents.
Sadly, due to the inefficiency of the breast pump, supply dwindled to a sheer nothing in just ONE MONTH. It still upsets me how that happened. But, I had to constantly remind myself that at least we did our best.
We were given another shot at breastfeeding when Sophia came along 1 and 1/2 years later. Needless to say, this time round I am more informed and will take NO MORE ADVICES from anybody other than the professionals!


Again, supply wasn't an issue. But, god knows why! I am plague with a forceful let down problem. It was so bad that Sophia would gag each time the let down happens! Change of nursing position doesn't help. The only solution was to "catch" the milk during let down with a towel and resume feeding when the flow is more manageable. Sophia latched directly for 18 months. That was the most beautiful experience ever!
Reading from forums, I gathered that most mothers choose to stop breastfeeding at 18 months. It seems like the "Social Norms" at that point of time. I painfully watch Sophia wean as she refuses to take the bottle. She had to go cold turkey on the breast in order for her take a tiny bit of milk from the bottle to satisfy her hunger.
Now with James and as third time parents, I am educated, empowered and will take no more sh*t! James has been latched directly for the past 18 months. Despite sarcastic remarks that he is "too old" to be on the breast, we are STILL GOING STRONG! And we will be till he decides that he is ready to wean on his own.


5 Lessons I've learn from Breastfeeding:
1. Don't fret over the small things.
Many babies in the 80s were fed on formula and we all turned out FINE.
2. Supportive Husband and Close Family Members.
Educate people around you about the benefits of breastfeeding and tell them about your strong desire to breastfeed. Let them know how they could play their part in supporting your decision.
3. Set Small Manageable goals.
Set small attainable goals. Like 1 week, then 1 month, then 6 months, then 12 months and so on. It is an important factor to stay motivated in this breastfeeding journey. Whenever possible, get a breastfeeding Buddy.
4. Remain POSITIVE. Stay away from Nay-sayers!
Many of us fall into the trap of post natal depression because we were made to feel that we were not adequate as a mother. Especially new mothers. Been there done that. Next time that happens, hold your head up high, remain positive, then reaffirm that you are the BEST mother on earth because you are that one that carried and LABOURED the baby into this world!
5. Be Educated and Empowered
Read up on breastfeeding. Kellymom.com is a great place to start.
La Leche League is a great forum to seek help for breastfeeding needs.
Watch Dr Jack Newman videos on breastfeeding.
Get to know the hospital lacation consultants, and seek help no matter how minute the problem may be.
---
This post is written for the "WHY I BREASTFEED FOR….." blog train ran by MadPsychMum. There will be a total of 24 mums from the Singapore Mom Bloggers Community to share with the story behind every breastfeeding mum, so make sure you come back here and click on the button below to read more stories!
The next mom on this blog train is Sandra Tan at Sanses.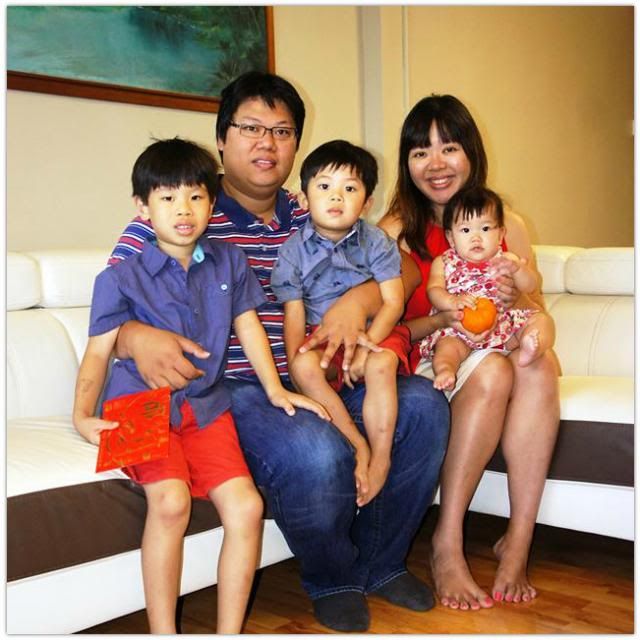 Sandra blogs over at SANses.com, where she chronicles her life as a mom of three. Once a fancy-free girl, life is now chock-ful of quips, questions, dinosaurs, trucks and trains. Sandra seeks to come to terms with how dirty dishes always pile up and to find out exactly where that missing other sock has landed too.
Comments
comments