Apple with white fungus soup is especially helpful for those with weak respiratory and immune system. It nourishes the lungs and is effective as a home remedy to treat dry coughs, dry throats, dry skin and constipation.
Due to the high collagen content in white fungus, this soup has also been known for it's nourishing properties keeping skin youthful and winkle-free.
White fungus provides similar health and beauty benefits as bird nests, but yet only cost a fraction of the the later. This is why white fungus has often been dubbed as the poor man's bird nest. Same results for less money! Sounds great in my opinion
!
Unlike the usual savory Cantonese soups, this one is fruity, sweet and refreshing.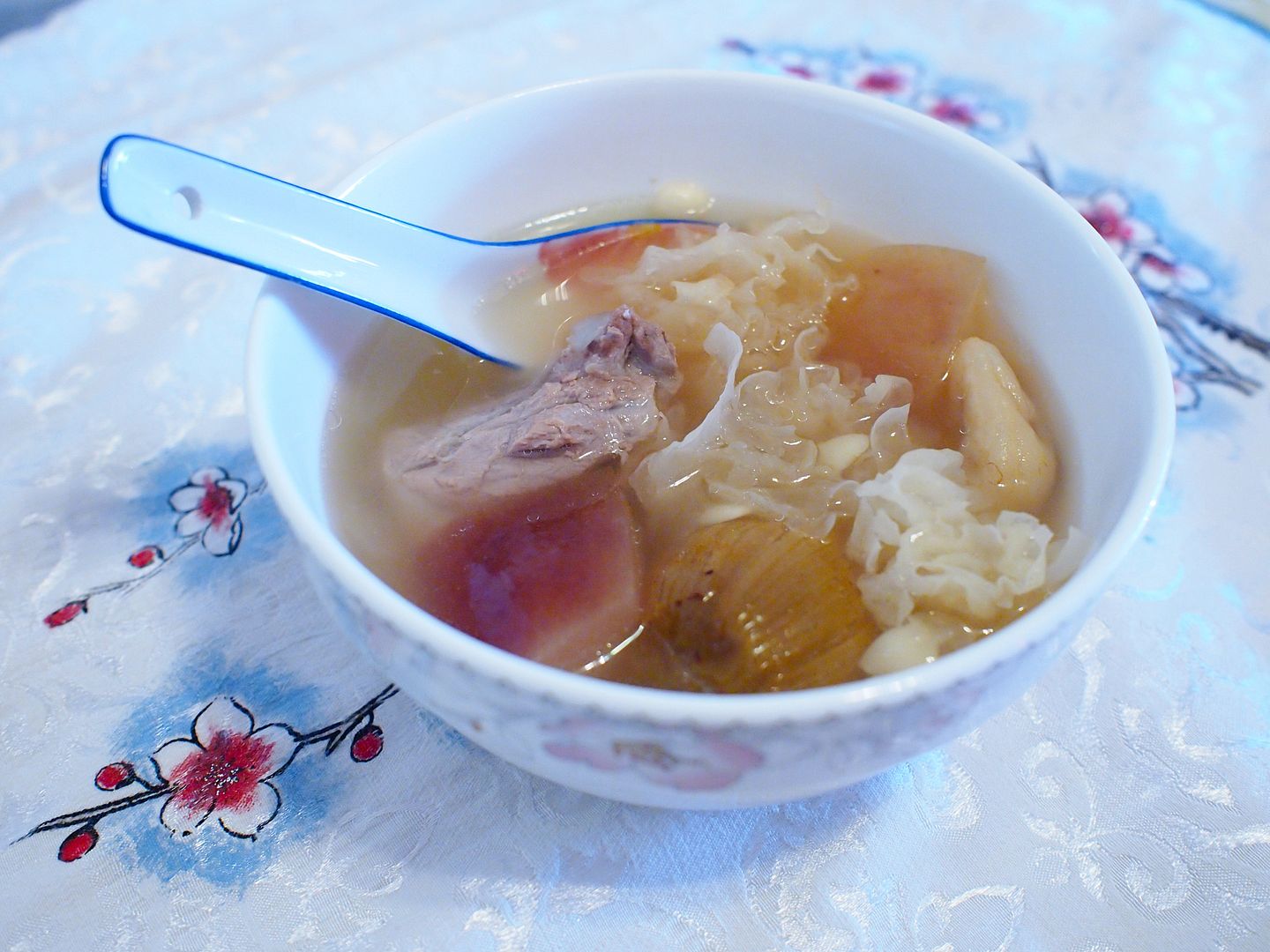 Ingredients


300g Pork Ribs(排骨)
2 Apple(苹果)peeled and cored, cut to large chunks
2 Honey Dates(金丝蜜枣)
4 Crystal Figs(无花果)
1 big White Fungus (白木耳)
a small handful of Mixed Apricot Seed (南北杏)
1.5l Water
Salt to taste
Directions
1. Soak White Fungus in water till soft.
Trim away hard bottom and break into smaller chunks and set aside.



2. Blanch pork ribs in boiling water for a few minutes
to get rid of the blood and impurities. Rinse in cold water.
3. In a medium pot add water, pork ribs, apples, honey dates,
crystal figs & mixed apricot seed. Cover pot.


4. Bring to slow boil for 1 and 1/2 hrs
5. Add white Fungus
6. Slow boil for another 30 mins. Add salt to taste.
Finally, dish up and slurp into nourishing goodness!
Watch James the true blue Cantonese boy slurping on his soup!
(Yes, he drinks it with the ladle!! 😆 )

Want something to go with your nourishing apple and white fungus soup?
Try our Salmon Teriyaki…
Comments
comments