Sorry for the lack of updates on this blog recently.
James's eczema condition which sudden took a sudden plunge to the land of ultimate took a toll on me. For something that has started off with only a tiny patch at the back of his left elbows quickly spread to the sole of his feet, back of his knees, hands, palms and face. It was scary how quickly I ran through a small tube of steroid cream and Phyiogel cream in a blink of an eye. Condition seems to improve for a couple of days before it hits big time all over again.
We suddenly find ourselves battling with extremely dry skin patches over his belly button, neck, armpits, ears and scalp too! As a mom, I'm pretty hardy. But, it's really heart wrenching to see James scratching himself to the point where the skin would weep and bleed. Even taking anti-histamine medication doesn't stop the itch!


Kitson felt that we should concentrate on finding the underlying trigger of eczema rather than going on a witch-hunt for the "miracle" cream.
We started putting James on a strict diet, with no dairy other than breast milk. We've also started James on his daily doze of Cod Liver Oil.
To rule out the possibility of dust mite allergy. We've clean out the room with a vacuum cleaner fitted with HEPA filter. Other than changing bedding twice in a week, we've also steam them and threw out pillows that are more than 6 months old. In addition to that, air purifier was put into the room running 24/7.
James is currently using California Baby Therapeutic Relief Eczema Shampoo & Bodywash. And since, James's condition is now know was an eczema flare up, steroid creams are necessary evils at this current moment. Immediately apply steroid cream and moisturizer after showers. And generously re-apply moisturizer whenever needed.
I am finally seeing some light at the end of a long long tunnel. Even though the skin is still rough, patchy and itchy, the redness subsided and it significantly looks less "angry". With fingers and toes crossed, I hope it stays this way (and better)!
In one of our desperate measures, we visited a Traditional Chinese Medical Physician at Shan Dong Traditional Chinese Medicine. I believe in Traditional Chinese Medicine (TCM). But when it comes to kids, I get a little skeptical, since I've never heard of a Traditional Medical Physician that specializes in kids!
Well, it looks like I've been living under a rock all these while. This one not only specializes in Acupuncture, but does Chinese Pediatric Medical Care and Child Massage (tuina) too! I've got to sneak a photo of the setup in my next visit.
Check out the exotic medication!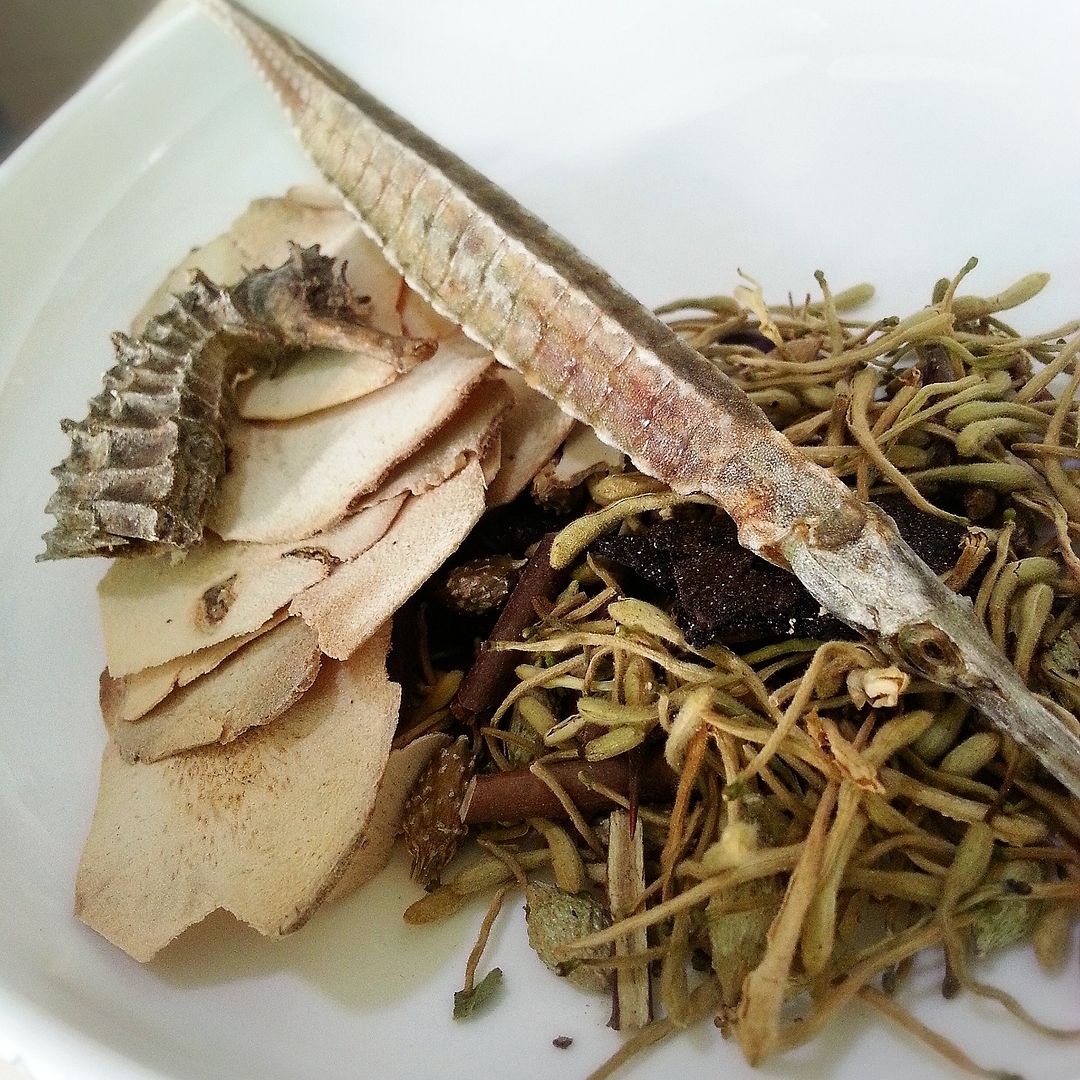 TCM Eczema Treatment; This concoction is apparently for "blood cleansing".
Herbs were brewed over the stove for 30 minutes with a piece of lean meat.
With all honesty, it didn't look nor smell appetizing.
But surprisingly, James had no problem with it. In actual fact, he took the medication in big gulps, smacking his lips and asking for more!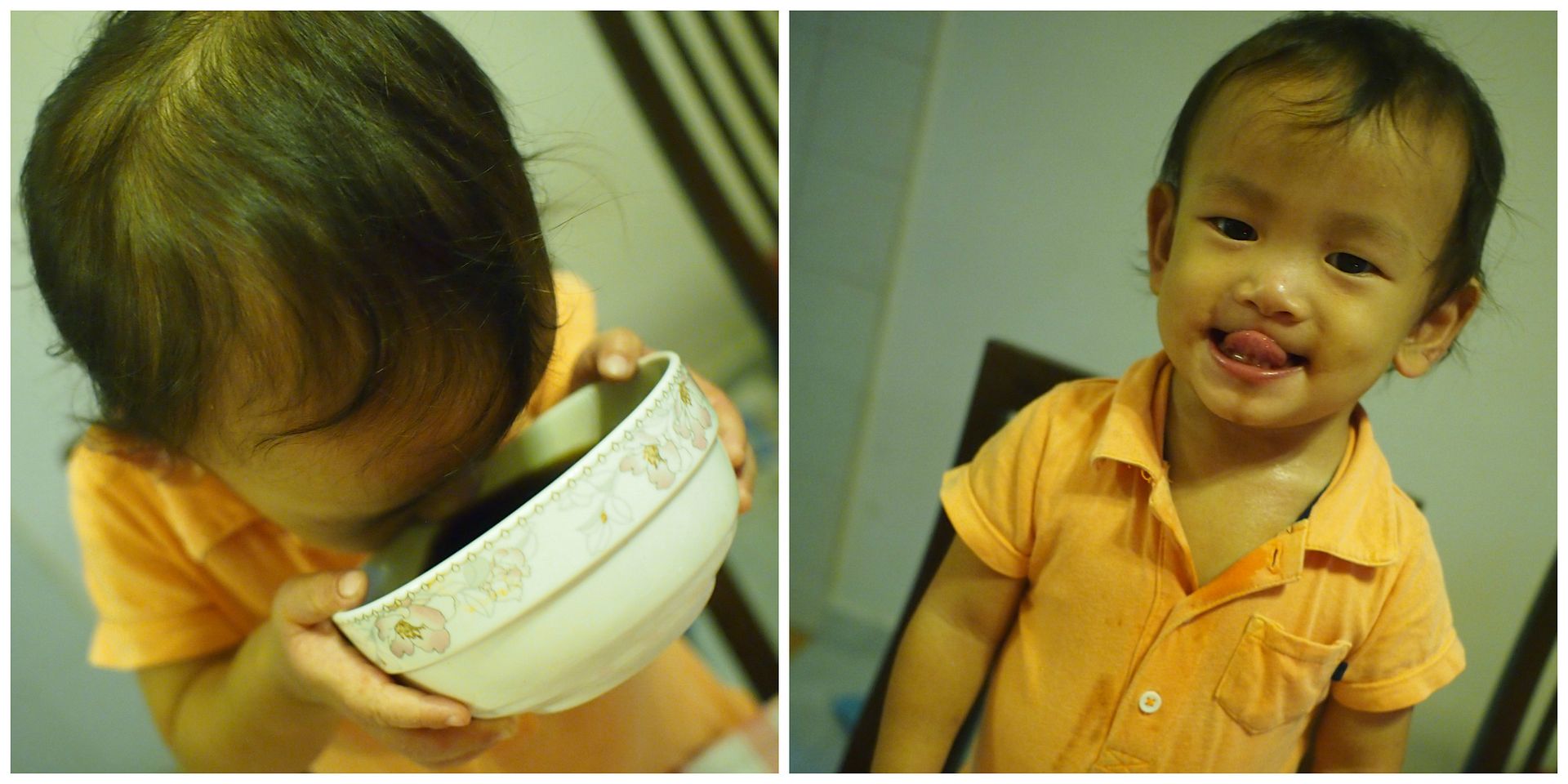 Get Well and STAY WELL real soon!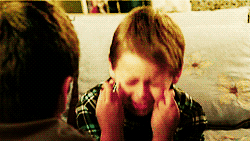 Comments
comments