When I was young, I hardly notice big medical terms being thrown around to label kids.
When you do not hit your developmental milestones as planned, you are simply known as a slow learner. In a worst case scenario, you might even be classified under the broad term of "why you so stupid!" But under both of these circumstances, there is no call for concern, and life still goes on for the typical Singaporean.
A brief encounter with a child psychologist suggest that James might be delayed in his speech development. Who would have known that a kid should utter their first words by 12 months. Say at least 6 words by 18 months old, and have a progressively expanding vocabulary (one word each week!!) from 19 to 24 months old.
Hiroshi did not talk till 3!!
And today it is hard to even shut him up!
Nonetheless, I took the advice of the professional. The cheapest route to seeing a speech therapist is getting a referrer letter from the polyclinic. Despite the rumors of long waiting time, ours was only 3 weeks to see the professionals from KKH Department of Child Development.

The clinic was bright and cheerful with many toys to keep little hands occupied! James had no complains about the waiting time as he wondered around the clinic exploring. The nurses were very friendly and patient too!
We were first ushered into a room where the nurse ask preliminary questions, such as personal particulars and family history.

Then I was given an age appropriate questionnaire to fill up. Mainly accessing how much James can or cannot do. Questions range from language development, gross motor skill development and fine motor skills development. At times, I find myself staring blankly at the questionnaire thinking really really hard….
Thank goodness there was a therapist that brought us into a room to access him with hands on activities. This is to double confirm his development against my failing memory and answers on the questionnaire!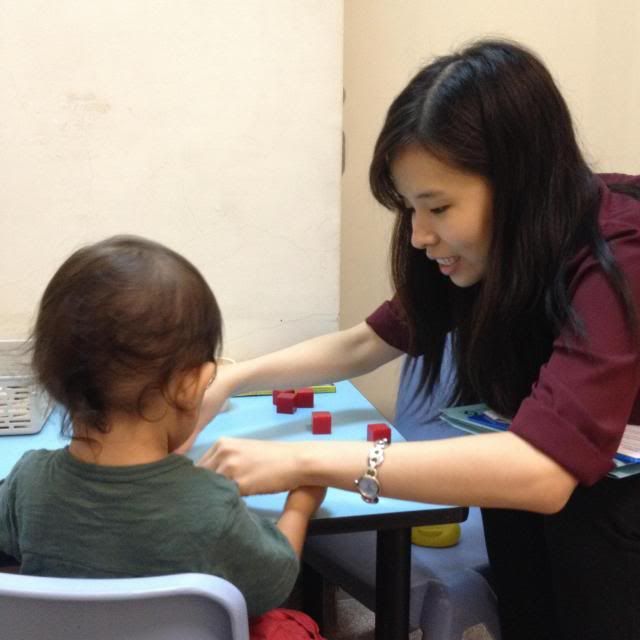 The final assessment was done by a doctor. Through a series of tests and evaluation, it is confirmed that James has Isolated Speech Delay.
Even though, James does not communicate verbally, he understands instructions perfectly and communicates with gestures and baby sign language.
We are praying hard that the follow up interventions will help James open his Golden Mouth soon. And hopefully with the ability to talk and express himself will lessen the temper tantrums too!

Comments
comments